When we think of an engagement ring, many of us immediately think of a diamond ring. Why? We have probably all been influenced by the powerful DeBeers marketing campaign that tells us that "diamonds are forever". A sapphire ring is a beautiful, unique alternative to a diamond ring. A well chosen sapphire is the foundation for a really stunning ring. And don't the celebrities know it! There are some really, really gorgeous celebrity sapphire engagement rings out there. I'm thinking here of course of Kate Middleton's stunning sapphire and diamond engagement ring that was Princess Diana's engagement ring, Penelope Cruz's blue sapphire flower shape halo ring, Victoria Beckham's 11th (or was it 12th??) enormous blue sapphire engagement ring… and the list goes on…
With sapphire being the birthstone for September, I thought it was timely to have a look at some fantastic sapphire rings we have made over the years… our own home grown celebrity sapphire engagement rings!
Our Very Own Celebrity Sapphire Engagement Rings
Have a look at this gorgeous radiant-type cut sapphire ring! The sapphire is of Ceylon type, and is 1.86ct.
Surrounding the sapphire is a halo of diamonds in a setting that is a soft square shape. It has hand beaded edges around the sapphire itself, and also the outer edge of the setting.
Diamonds surround the sapphire, and are also set to the half way point down the band. The total diamond content in the ring is 0.86ct., all F/VS.
Note the beautiful tiger claw holding the sapphire and framing the outer corners of the setting.
And here is another one! A gorgeous green sapphire engagement ring! A personal favourite, it features a 7.74ct. cushion cut green Australian sapphire set in 18ct. white gold.
The sapphire is a very dark green, so in different lights it actually looks like a black diamond. Holding the sapphire in place are double claws in the corners.
A delicate halo of small white diamonds surrounds the sapphire. Diamonds are set half way down the band, and also under the ring in a pretty antique style fluted setting.
The edge of the sapphire is surrounded by a delicate hand beaded edge.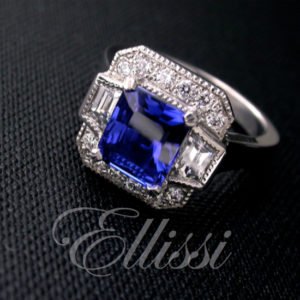 What a stunning ring this is!
This engagement ring features a 1.72ct. square emerald cut sapphire of a royal blue colour.
The diamonds are a matching set of trapezoid cut diamonds = 0.42ct., both E/VS. It also has 12 round brilliant cut diamonds = 0.22ct.
The geometric shapes give the ring a real Art Deco look.
Well, who needs celebrity sapphire engagement rings? I think we have made a few of our own here!
Want An Engagement Ring That Stands Out From The Crowd? A Sapphire Engagement Ring is the Way To Go!
So, whilst we might think of diamonds when we think of an engagement ring, they are not the only gemstone that is suitable for an engagement ring. In fact before the memorable marketing campaign by DeBeers, sapphire ring engagement rings were very, very popular. And I can see why!